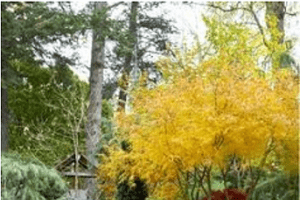 As fall draws near, make sure you are preparing your landscape for the winter! Below is a list of what you should do to get ready.
BEST TIME FOR PLANTING
Planting in the fall allows trees to develop an extensive root system, which enables them to deal with harsh summer weather.  As long as the soil temperature remains above 40 degrees F, roots will continue to grow.  The best time to plant trees is now!
FERTILIZATION
Fertilizing trees and shrubs in the fall is a great way to help trees.  Since roots are still growing in the fall, trees are able to take up the fertilizer and store it until the tree needs it in the spring.
PREVENTATIVE MAINTENANCE FOR ICE STORMS
Fall is an excellent time for pruning.  Pruning to reduce end weight will reduce the chances of limb failure.  THIS IS NOT TOPPING!  See our "Why Not to Top Trees" section on our website HERE. Installing cables to limbs with included bark (a junction forms in a tree and bark is incorporated into the joint) and v-shaped crotches (when the shape of where the branches meet is a "V" when it should be more of a "U") will also help reduce limb failure.
PREVENT PEST OUTBREAKS FOR THE FOLLOWING SPRING
Certain trees and shrubs can benefit from a dormant oil application in the fall/winter to help reduce overwintering populations of pests.  Dormant oil is not harmful to many beneficial insects, which help control pests. Call your Arborist today to have all your shrubs and trees evaluated!
Preparing for Winter
Best time for planting
Fertilization
Preventative maintenance for ice storms
Prevent pest outbreaks for the following spring
Call your arborist today to have all your shrubs and trees evaluated!