Brian Gray recently completed the Certified Treecare Safety Professional (CTSP) program offered by the Tree Care Industry Association. The CTSP program allows one or more key employees at a given company to become certified tree care safety experts, thereby empowering and encouraging a culture of safety within that organization.
Schneider Tree Care, a commercial and residential tree care company, has three separate locations with their corporate office in Taylors, South Carolina and two additional branches in Charleston, South Carolina and Charlotte, North Carolina. Contact this company on their website at https://schneidertree.com or via phone call at 864-244-3088.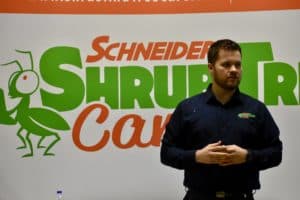 Maintaining a Certified Treecare Safety Professional on staff means that organizations are committed to safe practices in arboricultural operations. CTSP's are kept abreast of the latest technological advances and regulatory activities affecting the industry through the TCIA safety network and must commit to ongoing education in the safety field in order to maintain their certification.
Because safety regulations and industry standards are continually evolving, the ongoing education requirement is vital to maintaining a legitimate safety program within a given company. In order to fulfill program requirements, CTSP's must complete a study guide, attend a two-day training workshop, and pass a rigorous exam. Once certified, CTSP's must complete at least 30 hours of training other people, or receiving education themselves, every three years.
Consumers can have greater peace of mind with the knowledge that hiring a tree care company with a CTSP on staff helps to ensure safe and professional arboricultural work on their property.