Have you noticed any trees in your yard or neighborhood that are beginning to turn Fall colors within the last month, even though we have several months of our growing season left? Nope, you're not imagining things; some are changing colors even though it's not officially Autumn yet. Why is that?
Stressed-out Trees
Trees get stressed from a multitude of factors; whether from the long, hot, dry season, insect and disease issues throughout the year, or just living in the urban environment, trees have stressors around them all the time. Typically, when the Fall season begins, trees will know that their "break" is coming up, and they begin to prepare themselves for the colder winter months. With all the hot weather we're having, trees are saying "I'm done and ready for a break!" a little earlier than normal; that triggers the color change in the leaves. Normally, trees will begin to turn at the end of September or early October, not at the end of August or in late summer.
What Do the Different Colors Mean?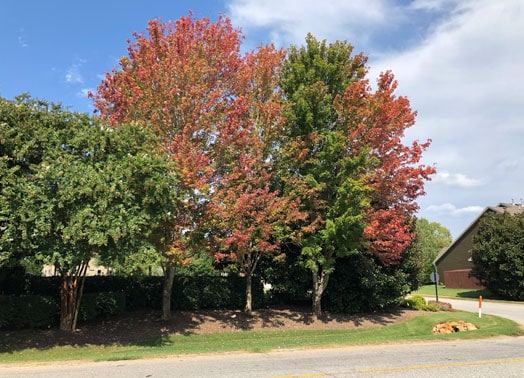 One important observation in the color change of these leaves is the difference between their colors. Brown leaves are an indication that the tree is beyond the point of stress and is entering the 'death spiral," or series of stressors that will eventually kill the tree. Our Neighborhood Arborists have noticed that most trees like Maples, Cherries, and Tulip Poplars are turning; if you have these types of trees on your property, keep your eye on them! Maples usually struggle with girdling root issues, which is another stress factor that can lead to tree death, and Cherries are known to defoliate early because of disease.
Are Your Trees and Shrubs on a Program?
How can you help? Make sure your trees and shrubs are on a program, like our Better Program which addresses insect and disease issues, as well as keeping plants healthy. Maintaining your tree's health is one of the best things you can do to combat stressors that can lead your tree to decline. Contact us to learn more and let one of our experienced Neighborhood Arborists help you to find the right
shrub and tree care program
for your property.
Why Are My Trees Already Showing Their Fall Colors?
Stressed-out Trees
What Do the Different Colors Mean?
Are Your Trees and Shrubs on a Program?